Buy, Sell, Trade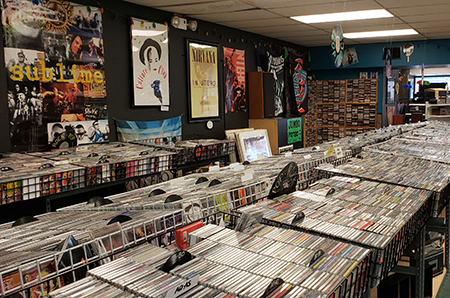 CDs
Box Sets, Imports, Rarities. Genres like: Rock, Blues, Jazz, Country, Rap, Classical, Reggae, and more.
DVDs
TV Series, Collections, Music, Hollywood Movies, Children's movies, Workout, and more.
Records, LPs, Vinyl
*Condition is very important*
We buy, sell, trade many types of 33 RPMs and all types of music from many different eras.
Games, Systems, Accessories
From Atari 2600, Nintendo 64, Sega Genesis, Super Nintendo, NES, Playstation 1, 2, 3, XBox, XBox 360, Wii, handheld gaming systems & games.
PLUS
Music posters, cassettes, stereo equipment, music books.
---
CONDITION
All items need to be in good working order.
All CDs and DVDs need to be complete with artwork inserts and cases.
The condition, more than anything, affects pricing.
PRICING
As much as we would like to give you specific values for your items here, it is nearly impossible to do so without seeing them.
*PLEASE BRING THEM IN FOR A QUOTE*